Yesirree… I finally got to making up my mock-up of the timelines for lapbooks…
Thank you for patience!!!!
Alright… in this first picture, I have cut an 8.5X11 sheet of cardstock (okay, I'm lying, this is just construction paper, my kids used up all the cardstock.. gotta buy more… *grin*) in half widthwise.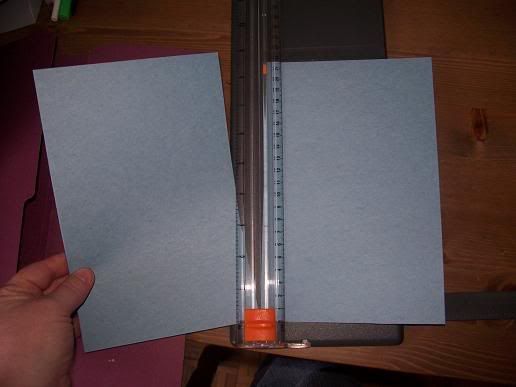 Attach the smaller cardstock pieces end to end as long as you need to to cover the time line you want. If you stick masking tape (as I have, without cutting it, someone ran off with my scissors too.. sigh.) to one side only, you get a nice clean line on the reverse for your timeline…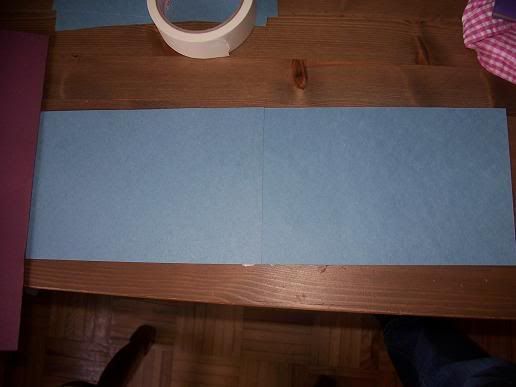 Tape one end to one inside seam of your lapbook…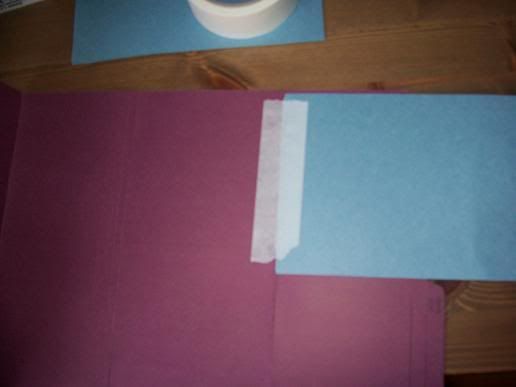 Add your line and you have yourself a Time Line in a Lapbook! Of couse, you can add as many sheets as you need to the timeline to accomodate the time period you are studying.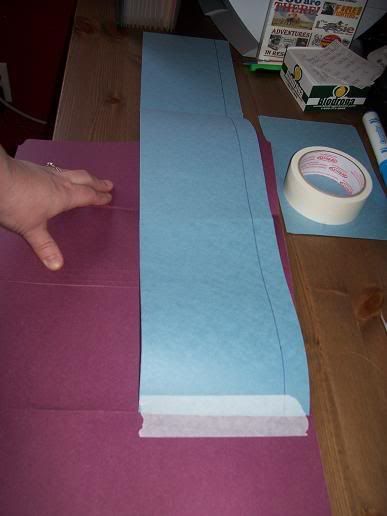 Fold accordion style to "put away" your timeline.
OH! And I have an idea of what you could put on the reverse side if you are not going to be continuing your timeline on it… stick more minibooks, sticik photos, small drawings, make a bibliography list of the books you used on the unit, maybe a calendar of "events" you did while doing your lapbook… the options are limitless!! I also thought, if you were to draw a vertical line halfway through each "page" as it flips out, instead of putting a timeline bar across horozontally… you could use it as a "sequence of events" timeline for younger children… like "what came first in the story" "what came next" .. and have them draw the events ON A SEPARATE PAGE (critical, because if they are like my kids and mess up their "good timeline" they will be crushed!) which can then be cut out and put in to the different "squares" of the sequence timeline… I'll probably use it this way in the autumn when I am working with Greyson for Kindergarten. I can't wait!!! *grin*
And Greys would like me to share with you what HE was doing while Mommy was playing with her lapbooks… *wink*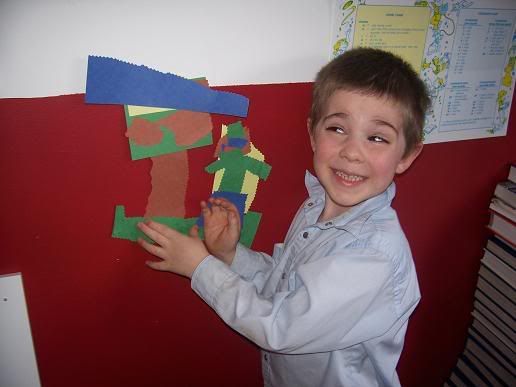 Doesn't he look proud? He tells me, "It's Santa and a Christmas Tree bringing presents to Chaeli" (okay.. this I don't understand, we DON'T do Santa, that looks like a Palm tree to me.. and well… IT'S APRIL!!! Gosh goodness, we finally got rid of the snow and the kid is talking Christmas again!!!! YIKES!)
Before I go, I'd like to add a little plug for a fellow lapbooker here who has come up with a very nice "digilapbook" on creepy-crawlies… very cool! I have to look more into this one!
I hope my ideas have inspired you in your lapbooking adventures… I probably won't be around mcuh for the next week and a bit – but I'll be THINKING, and BRAINSTORMING new ideas to share with you!!!
And NEXT week I'll be attending the Ultimate Homeschool Expo!!! I REALLY hope I will see you there!!! Don't miss this incredible event – a homeschool convention in your computer, perfect to either participate in LIVE – or to take along with you as you wear the many hats of your day! Get your ticket here for your own membership site with so many goodies to help you on your homeschool journey!

Blessings!!